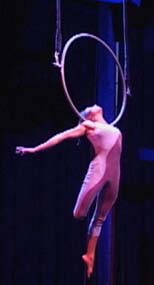 A group of migrants and exiles gather for a funeral. Embodying remnants of various cultures, lost and found, they attempt to honor the ancestors. Humans, briefly playing gods by extending physical and social limits, invoke strength and flight, flexibility and balance, whimsy and tragedy...
Welcome to the circus.
Circo Zero is a fusion of popular and experimental, contemporary and ancient performance forms. Directed by Keith Hennessy, a diverse team of circus and music artists create a hybrid spectacle for the urban environment. Circo Zero has performed at several local events and festivals around the United States, and a music CD is currently is production.
Circo Zero intends to evolve performance language and build community through collaboration while crossing lines of artistic discipline, personal and cultural identity, and social expectations. The work is intended to be both intimate and spectacular. Performance elements integrate traditional circus arts (aerial fabric, cloud swing, acrobatics, contortion, aerial hoop) and contemporary performance within a musical landscape of American roots/folk songs supported by contemporary rhythms.
Circo Zero's first major production premiered at Artaud in June 2002.